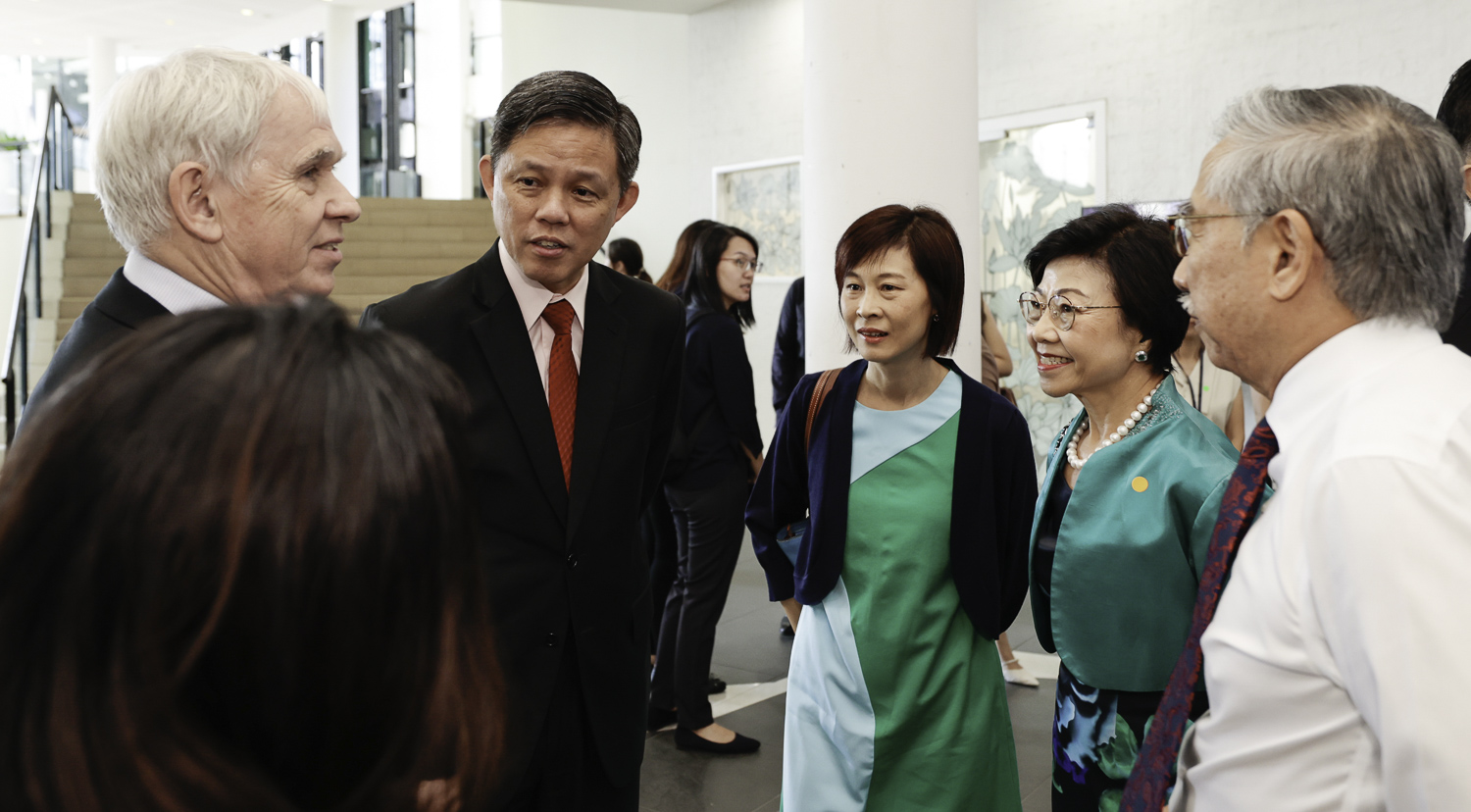 Left to right: Prof Steve Dixon, Minister Chan Chun Sing, Mrs Tan-Soh Wai Lan, Ms Low Sin Leng, Prof Kwok Kian Woon. Photo: UAS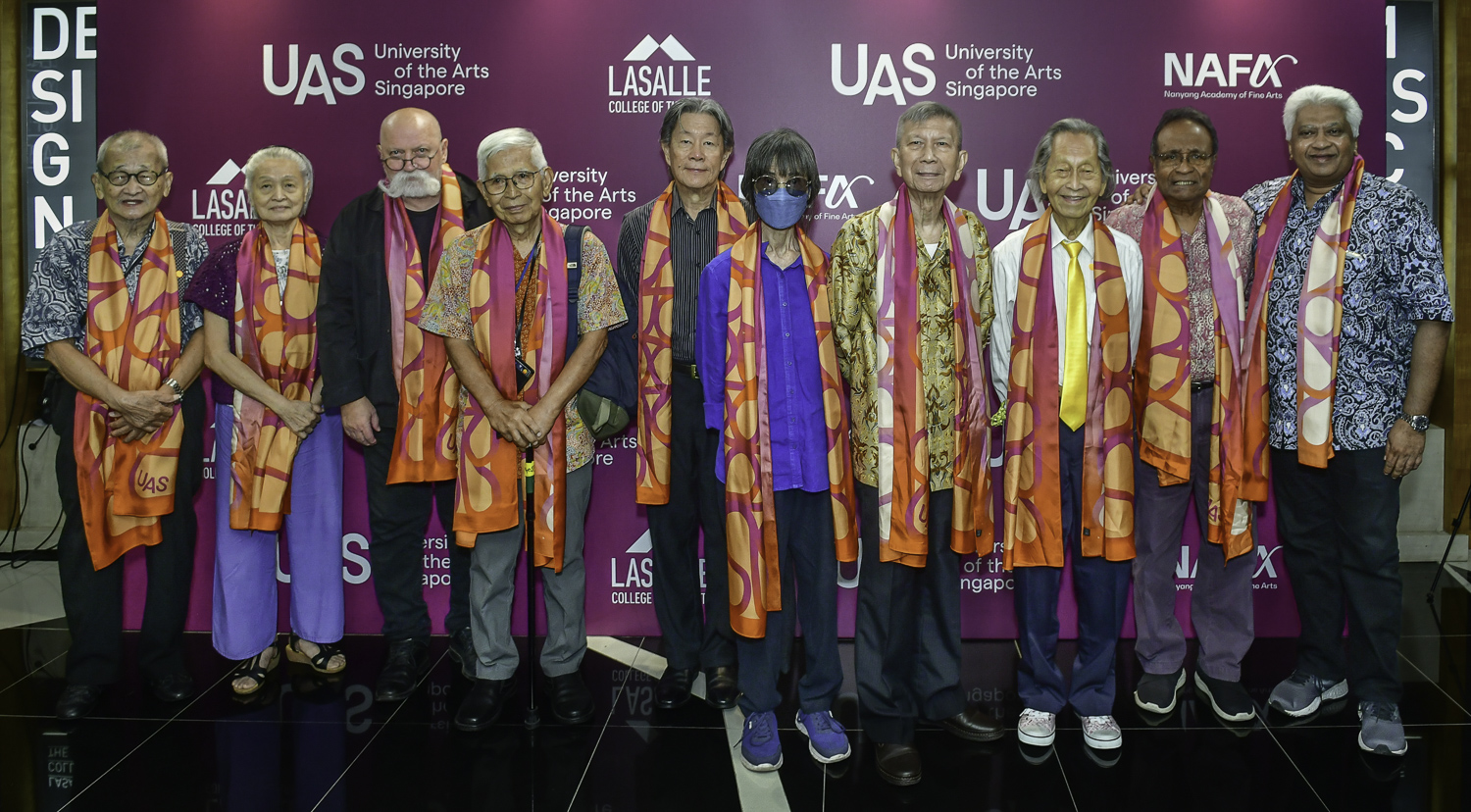 The 10 Senior Arts Educators, who received recognition for their contributions to nurturing generations of artists, practitioners and researchers. Photo: UAS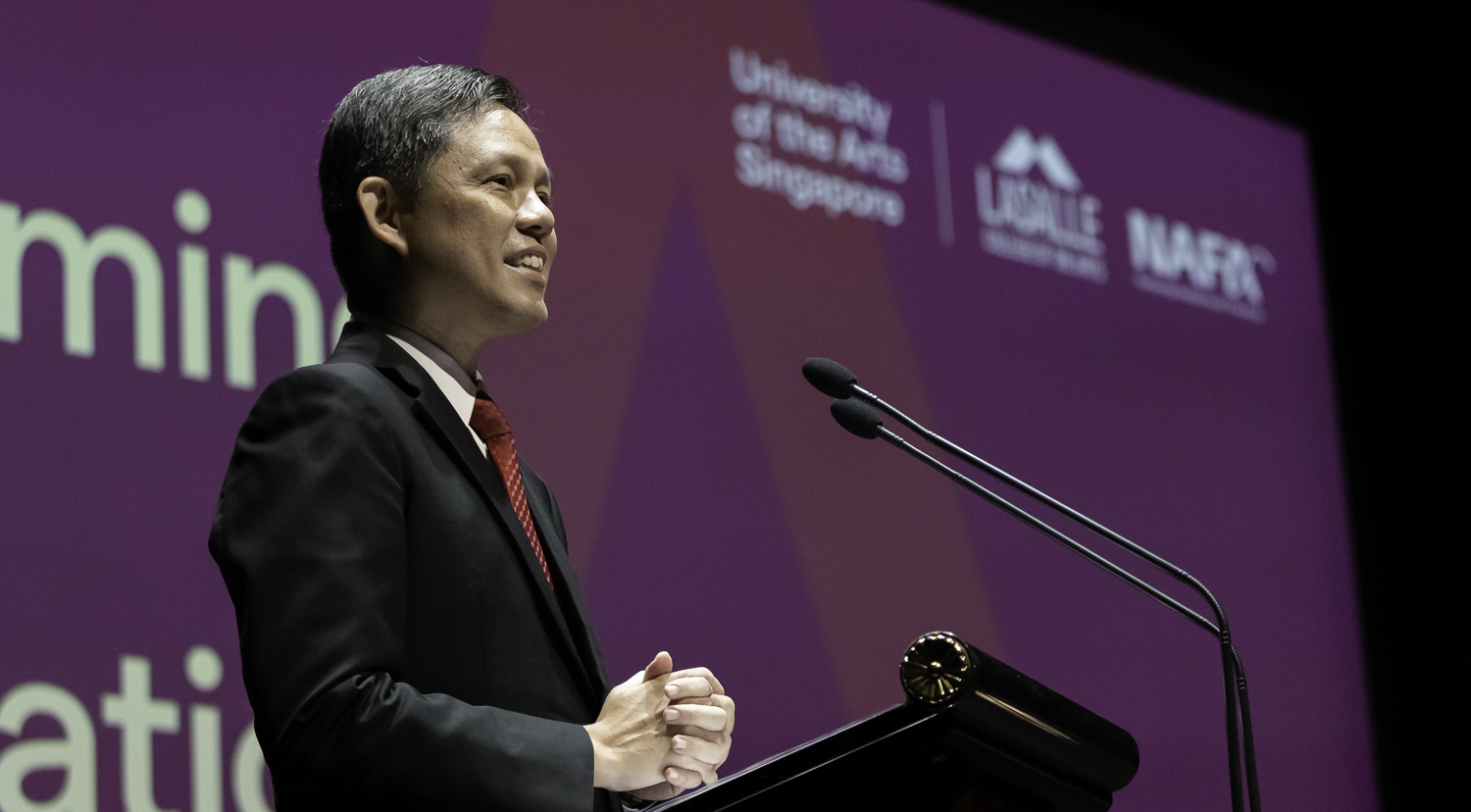 Minister for Education Chan Chun Sing giving his opening address at the inaugural UAS Arts Education Symposium. Photo: UAS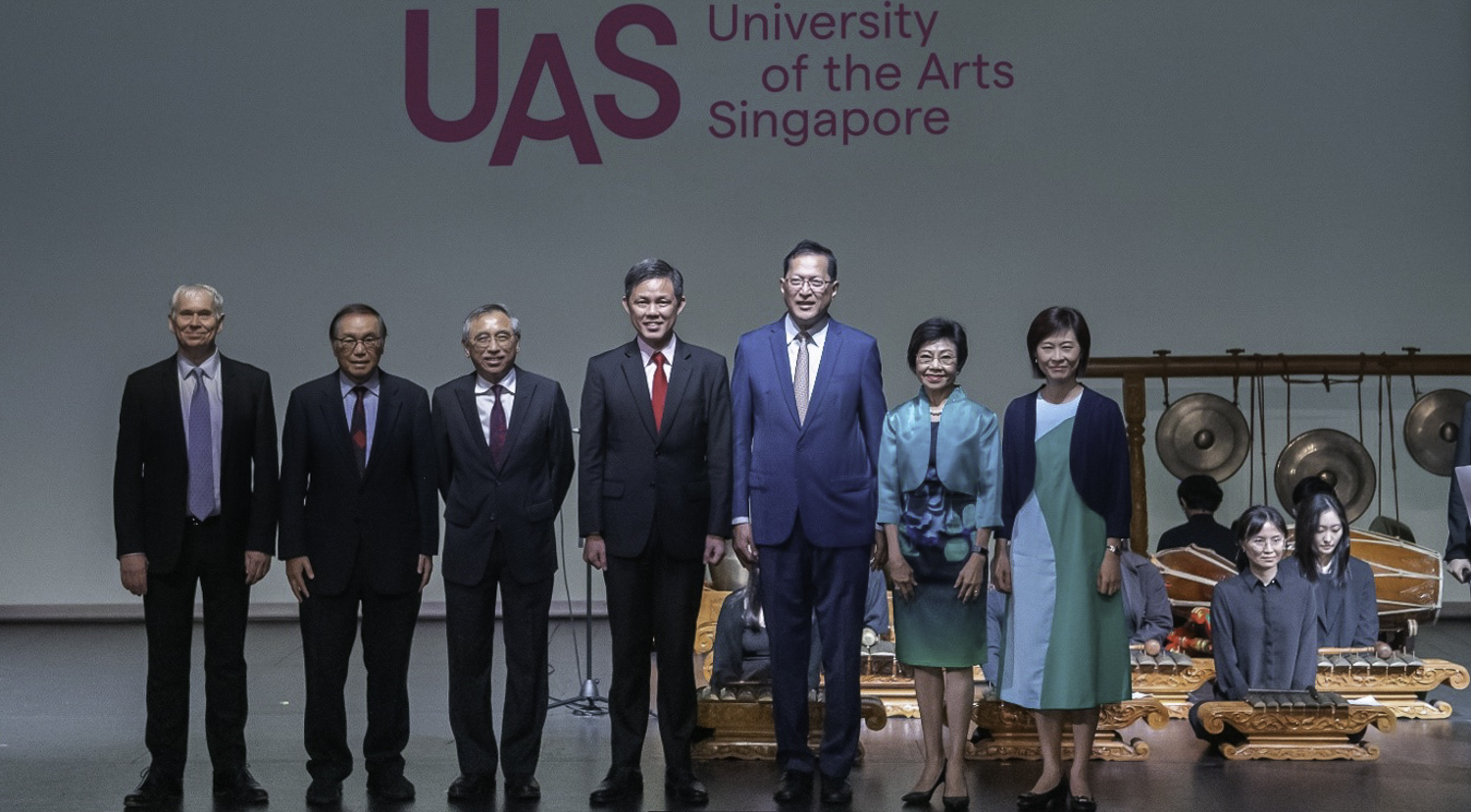 Left to right: Prof Steve Dixon, Mr Peter Seah, Prof Kwok Kian Woon, Minister Chan Chun Sing, Mr Jose Isidro "Lito" Camacho, Ms Low Sin Leng, Mrs Tan-Soh Wai Lan. Photo: UAS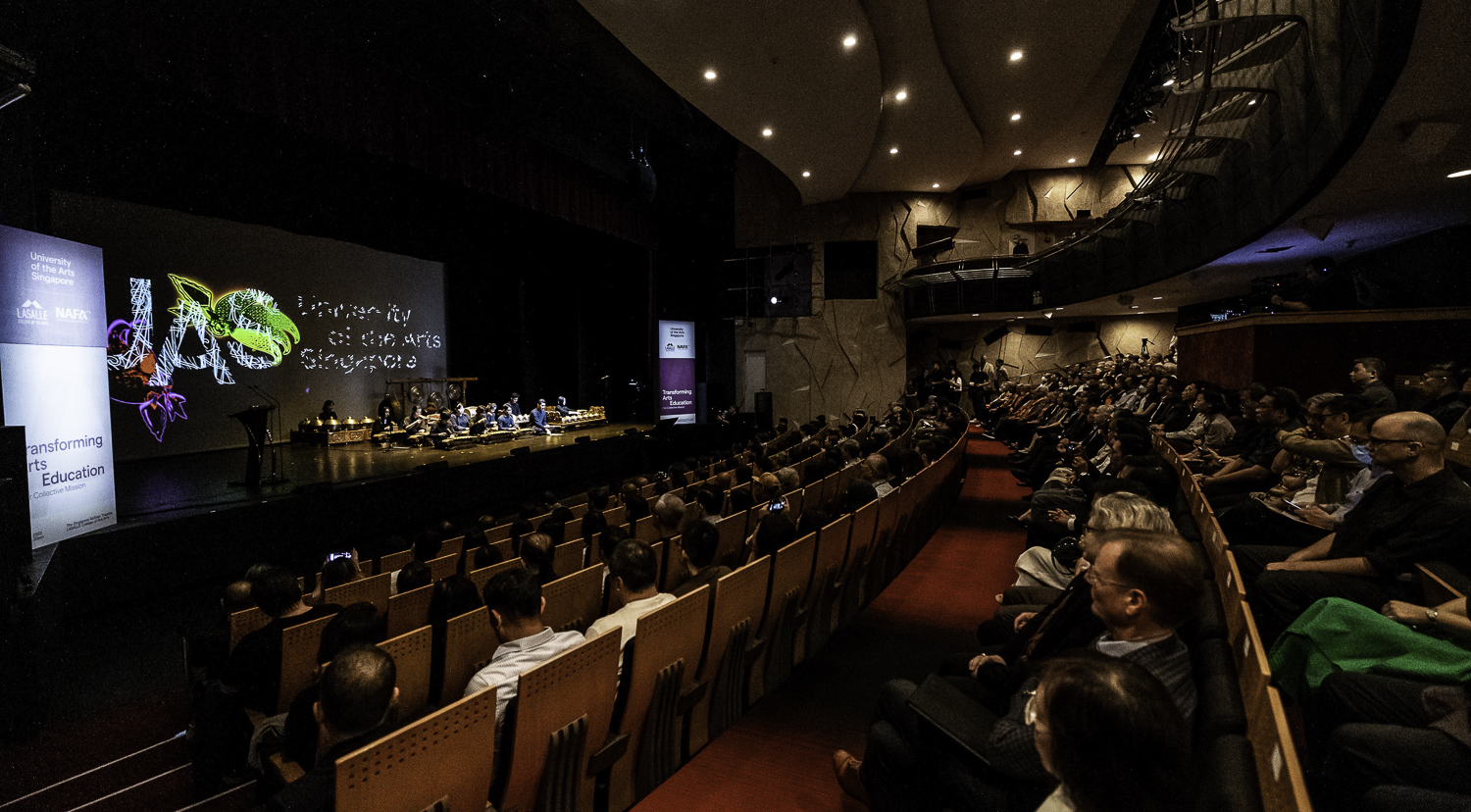 Graphic animation designed by faculty and students of LASALLE and gamelan performance by NAFA's faculty and students. Photo: UAS
Panel 1 discussion. (L-R) Prof Kwok Kian Woon, Prof Steve Dixon, Mrs Tan-Soh Wai Lan, Mrs Mary Seah, Mr Peter Tornquist, Mr Rustam Barucha. Photo: UAS
Panel 2 discussion. (L-R) Mr Roger Nelson, Mr T.Sasitharan, Mr Low Cheaw Hwei, Mr Paul Lincoln, Dr Rebecca Kan, Ms Cissie Fu, Professor Patrick Flores. Photo: UAS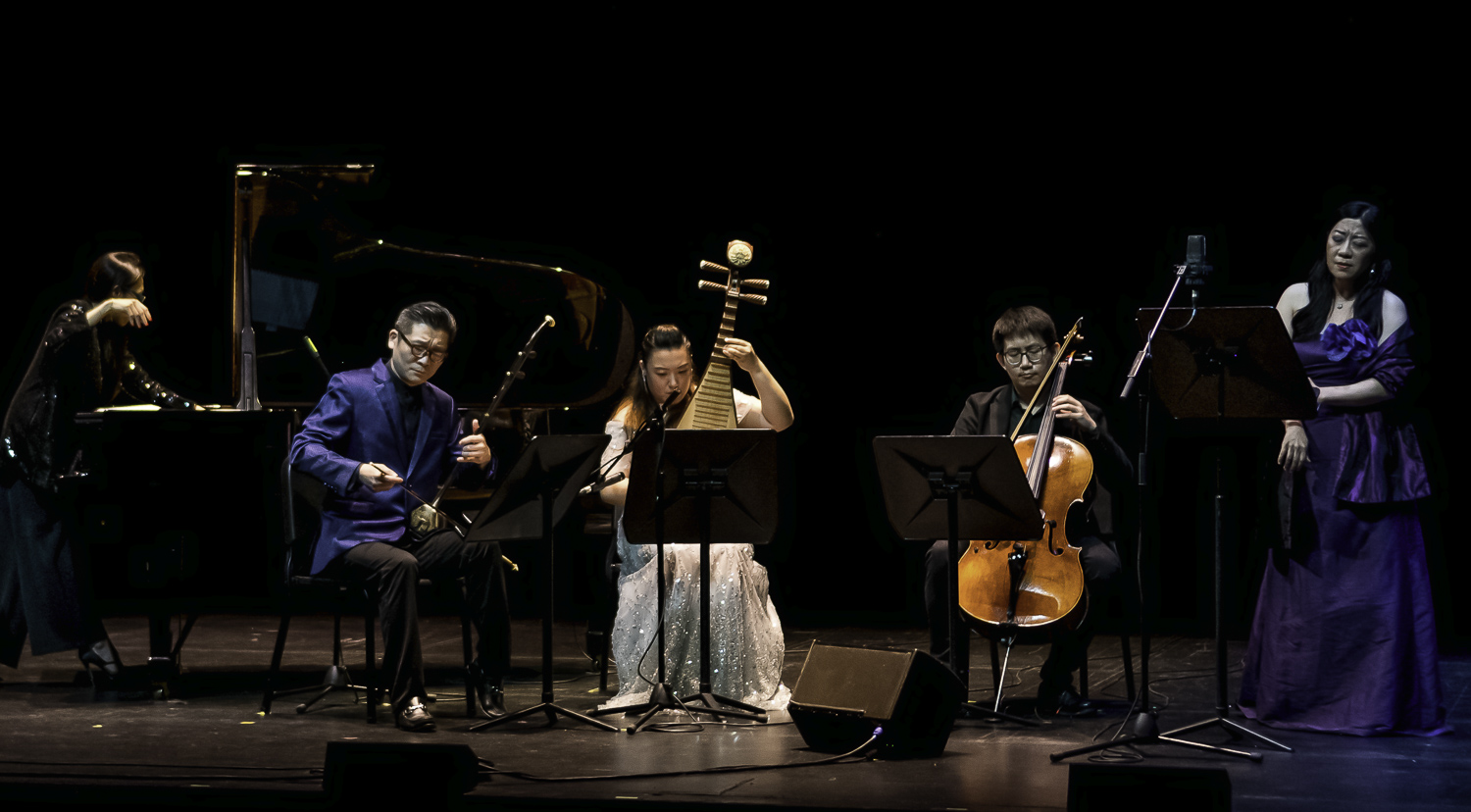 Collaborative music and dance performance by NAFA's faculty, alumni and students. Photo: UAS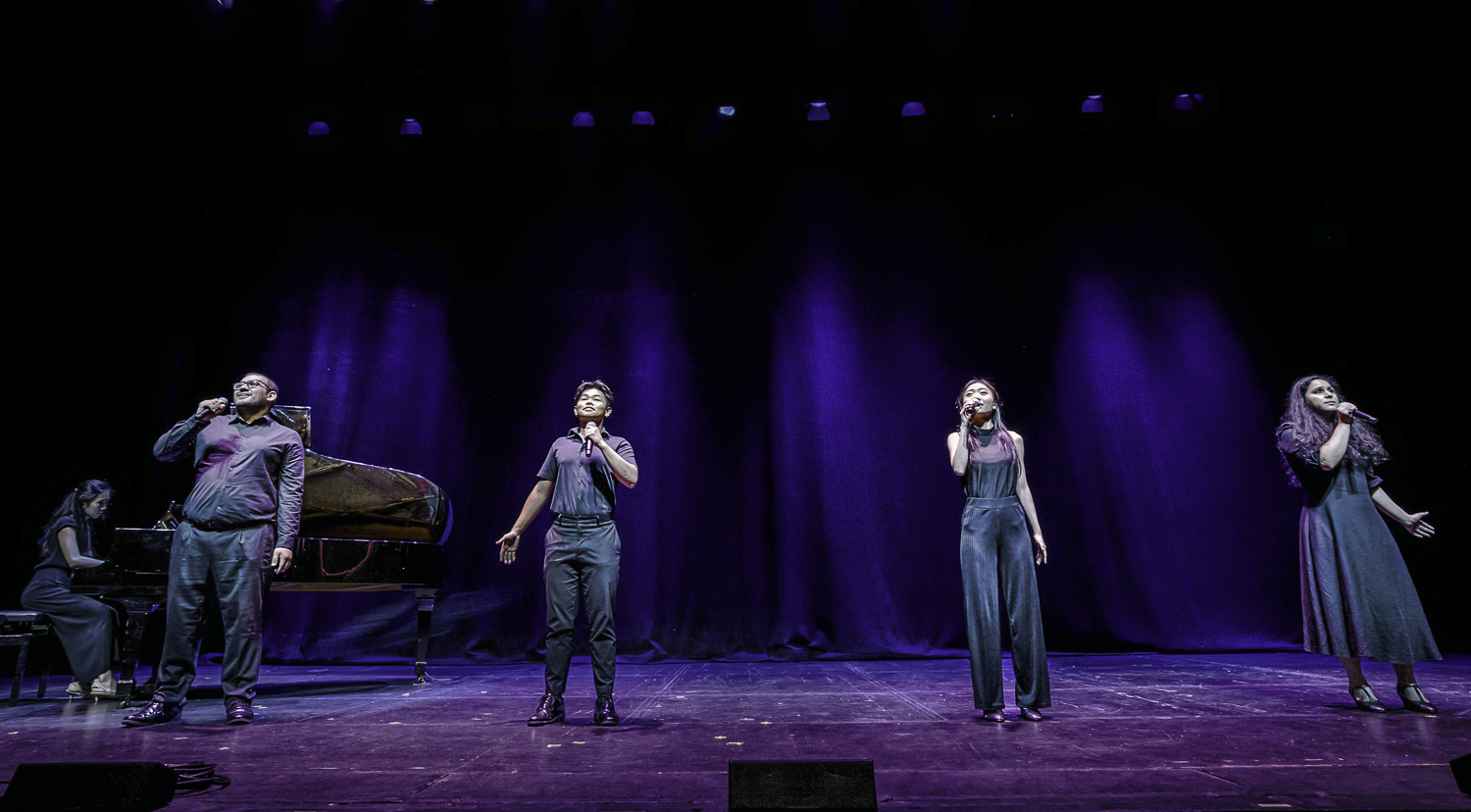 Closing performance presented by LASALLE's students. Photo: UAS
On 10 May 2023, the logo of the University of the Arts Singapore (UAS), Singapore's first arts university, was unveiled by the Minister for Education, Mr Chan Chun Sing, at the Inaugural UAS Arts Symposium. Over 450 arts educators and partners from government agencies, industry and cultural organisations gathered to discuss the transformation of arts education as a collective mission.

The establishment of UAS is a milestone in Singapore's tertiary arts education, building on the legacies and strengths of its two founding members, LASALLE College of the Arts (LASALLE) and Nanyang Academy of Fine Arts (NAFA). In the spirit of close partnership, the unveiling of the UAS logo was accompanied with visuals created by LASALLE's School of Design Communication, together with a performance by students and staff from NAFA's Faculty of Performing Arts. NAFA's students, staff and alumni also put up a collaborative music and dance performance in the afternoon, titled "Guo Fan Ge (Songs of Overseas Migration)" in acknowledgement of the country's early years. The event closed with two musical numbers from LASALLE's BA (Hons) Musical Theatre students.

Our Guest-of-Honour for the event, Minister for Education Mr Chan Chun Sing, shared his vision for UAS, noting in his opening speech at the symposium: "At a time when we are confronted with a world increasingly fragmented by different ideologies, political and economic systems, UAS must be an institution which draws strength from a diversity of ideas, people, and partners. It is my hope that it will be a bridging force that brings people and cultures across borders together, through arts education and practice."

Mr Lito Camacho, Chairperson of UAS Board of Trustees, said: "We are excited to launch the UAS logo today which gives a visual identity to our educational mission. The logo symbolises our commitment to fostering creativity, innovation, and excellence in arts education. I am also personally pleased to witness the enthusiasm of so many arts educators coming together to discuss common challenges at this symposium."

UAS will validate, confer, and award degrees offered by both LASALLE and NAFA. New programmes offered by both institutions will be announced in the coming months for the first student intake commencing in August 2024.

With the launch of its logo, the university also took the opportunity to show appreciation and recognition for Mr Lim Hak Tai, the founding principal of NAFA, and Brother Joseph McNally, the founder of LASALLE, as well as the contributions of ten senior arts educators who have nurtured generations of artists, practitioners, and researchers. These arts educators were selected for their diversity of art forms, impact and mentorship, contributions, length of service and scholarship. The educators, who come from a diversity of disciplines, include:

Mr Choy Weng Yang (Fine Art)
Madam Goh Lay Kuan (Dance)
Ms Han Sai Por (Sculpture)
Mr Iskandar Jalil (Pottery)
Mr Lim Yau (Music)
Mr Milenko Prvački (Contemporary Art)
Mr T. Sasitharan (Theatre)
Mr T. K. Sabapathy (Art history)
Mr Teo Eng Seng (Sculpture)
Mr Wee Beng Chong (Fine Art)

More details on the arts educators can be found at this link.
In his keynote address, UAS Vice-Chancellor Professor Kwok Kian Woon highlighted the special qualities of the arts as reflected in the life experiences of artists, as well as key challenges for arts education in the face of global crises and technological advancement. He shared a vision of arts practitioners, educators and partners collaborating across institutions, communities, and industries. Professor Kwok said, "Strengthened by a mission approach, each member of the community plays a role in shaping lifelong vocations and contributing to the public good. Singapore's location in Southeast Asia also enables our arts practitioners and educators to draw creatively from major civilisations and make new connections with peoples from the region and the rest of the world."
During the panel discussions, senior institutional leaders and arts educators from diverse disciplines weighed in on core priorities and the implications for practice, pedagogy, and research in the arts. The Presidents of LASALLE and NAFA shared their views on the challenges and opportunities ahead in arts education, especially as the two colleges strengthen their alliance as the founding members of UAS.
Professor Steve Dixon, President of LASALLE, said: "LASALLE is very proud to be a founding member of the University of the Arts Singapore. From the beginning, the College has championed the significance of the arts to transform lives, make a difference in society, and embody the spirit of a young and vibrant nation. The opening of UAS affirms these values and heralds a bold new era for Singapore. It is my great hope that LASALLE's strengths in contemporary arts and design education will continue playing a part in elevating the cultural industries not only locally, but in the region and beyond."
NAFA President Mrs Tan-Soh Wai Lan shared the academy's priorities on arts education, focusing on future-proofing its graduates in a VUCA world. She said, "As arts education and pedagogy have to evolve in tandem with technological advances, we need to continually broaden our perspectives on arts education. While technical skills are the springboard for creativity and knowledge exchange, the key skill of the future is the ability to think and to work collaboratively to create—this is what NAFA is focused on through its interdisciplinary programmes and curriculum. Above all, empathy and the human touch remains essential to how NAFA nurtures the next generation of change makers."
© Press release by University of the Arts Singapore
Read Vice-Chancellor Prof Kwok's keynote address "Thinking Through Arts Education in Our Time".
View videos of the Arts Education Symposium
*News coverage on the event:
Commentary by Dr Azhar Ibrahim Alwee, for BERITAmediacorp, 18 May 2023
Listen to:
Interview with Professor Kwok on Money FM89.3
*Source: The Straits Times, Lianhe Zaobao, Berita Harian, Tamil Murasu © SPH Media Limited.
Permission required for reproduction.